We're headed back to the west wing: an end is in sight to our exile!

Mark and Kathy Helge have made a generous gift to LSTC that will allow the renewal and renovation of the second and third levels of the west wing. Work on reuniting the JKM staff with the collection will begin as early as April. With the improvements made possible with the Helges' gift, all library operations will be consolidated in the west wing of the building in time for the beginning of fall semester 2013.
Have a question? You can ...
Using the Chat with us widget (the green tab to the right of the screen) allows you to correspond with a librarian in real time.

Standard message rates apply. Text AskJKM to 66746. You'll receive a confirmation text message, and an invitation to ask a question. We'll respond as soon as possible. Of course, if your question is more involved, you're always welcome to write us at infocommons@jkmlibrary.org or call us at 773.256.0738.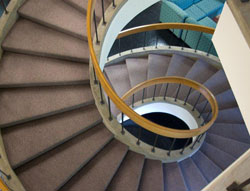 The JKM Library serves the students, faculty and staff of the Lutheran School of Theology at Chicago and McCormick Theological Seminary. The JKM in our name was — from 1975 to 2004 — an initialism for Jesuit-Krauss-McCormick: Jesuit from the Jesuit School of Theology, which closed in 1981; Krauss from the Krauss Library, the original name of the merged collection when LSTC moved to Hyde Park in 1967; and McCormick for McCormick Theological Seminary, which joined the Jesuits and LSTC in the Hyde Park neighborhood in 1975). In 2004, in an agreement worked out with the Chicago Province of the Society of Jesus, the name Jesuit was dropped, and we became officially known as the JKM Library.